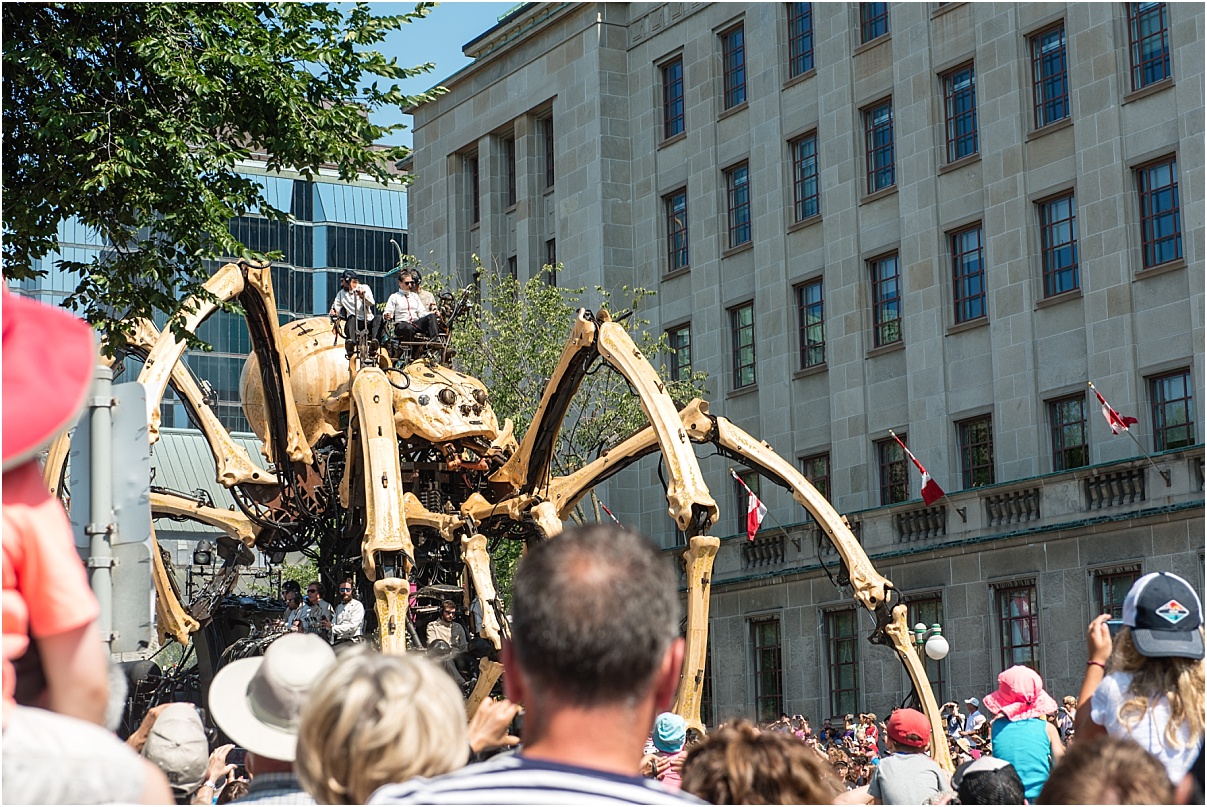 If you follow social media, have not been hiding under a rock and live in Ottawa, you would have by now seen all of your feeds flooded with photos and videos of the two mammoth creatures Kumo and Long Ma of La Machine. Obviously this is something one must take upon themselves to go and see, or at least you feel the obligation to do so because everyone is saying how amazing it is and you HAVE to go.
I was convinced. I asked my husband if we could take the kids. His response, "No, way I am going into the city on a Sunday to be mobbed by 10,000 people, it's ridiculous." Ok, well maybe those were not his exact words, but pretty close. I was extra convinced we had to go because on Friday my husband sends me a text and a video from work of him standing outside on the street watching these mega machines stomp down the street saying "wow these are pretty impressive." Grrrrr. Now there was no way in hell I could ever convince him to come, he's already seen it!
A friend of mine mentioned she wanted to go, so I thought it best we all to go together. She used to have a mini-van but traded it in. Her hubby has a big ass truck like we do, except more respectable in appearance. I hate driving that thing in the city, but the good friend that I am convinced her to do it with the enticement of free parking at the NAC. This was going to be the biggest worry of the day, finding a spot to park the giant beast with extended side mirrors. (can you tell we are not city folk ?)
As luck would have it , we cruised right in and the attendant waved us right in to the perfect, large vehicle spot and that was it! Ok, this day is going to be great I thought. It is a rare occasion I bring my kids into the city, we emerged from the underground parking into the foyer of the NAC. To everyone's delight, we stumbled upon this really cool light bulb sculpture that was constructed of hundreds of working light bulbs formed in the shape of a cloud. You could pull on the chains dangling from them to turn them off and on. We played there for a bit before stepping out into the concrete jungle.
My friend Lori and I were commenting to each other "Hey, this isn't so bad, there's not that many people out here, this is so comfortable and it's going to be great!" The sun was shining and the kids were easily enchanted by the tall buildings and various statues they encountered. We trundled down Sparks Street then up to Wellington, past parliament, over to the supreme court where Kumo and Long Ma were napping. Again, the kids were in awe and in great spirits.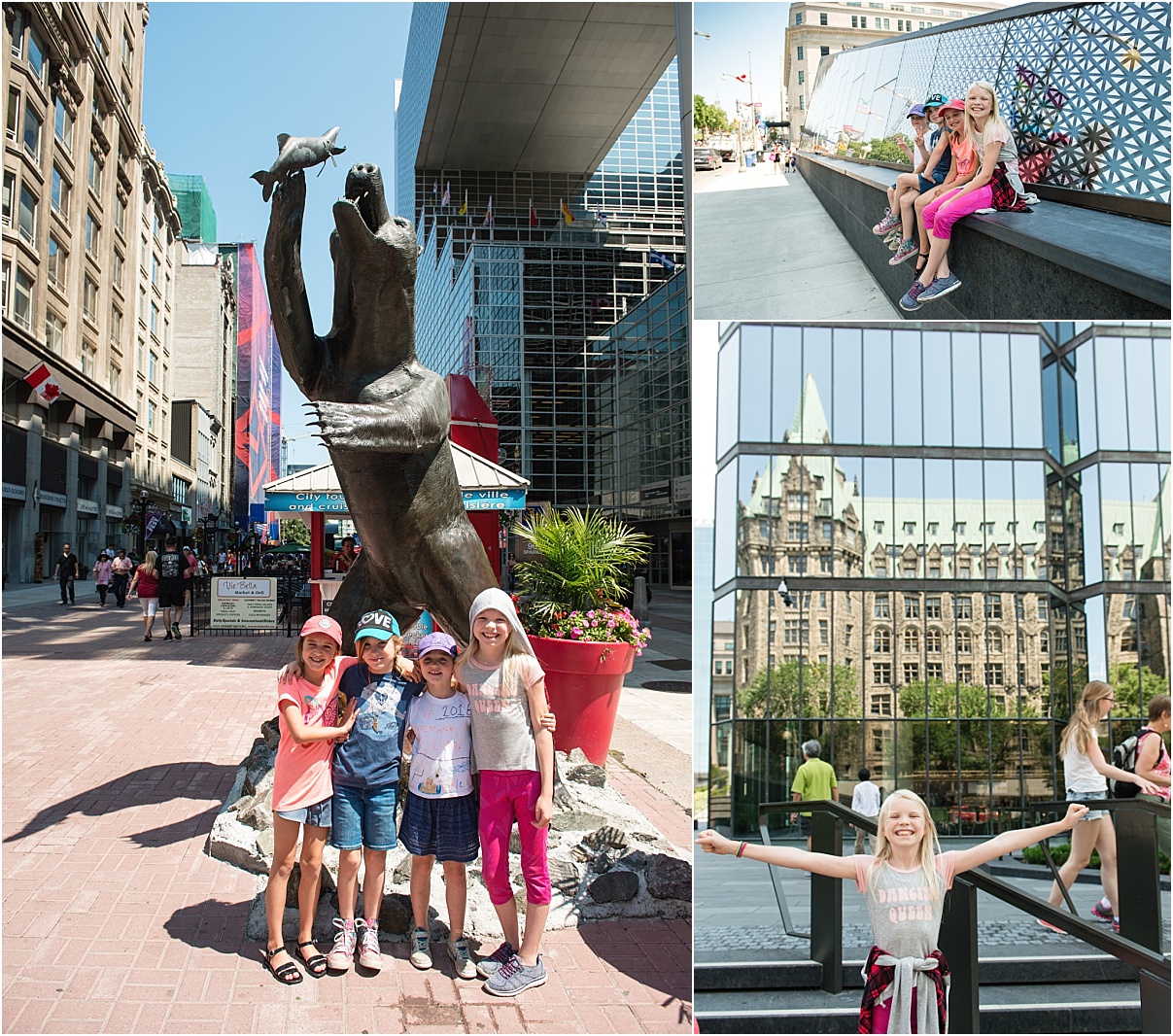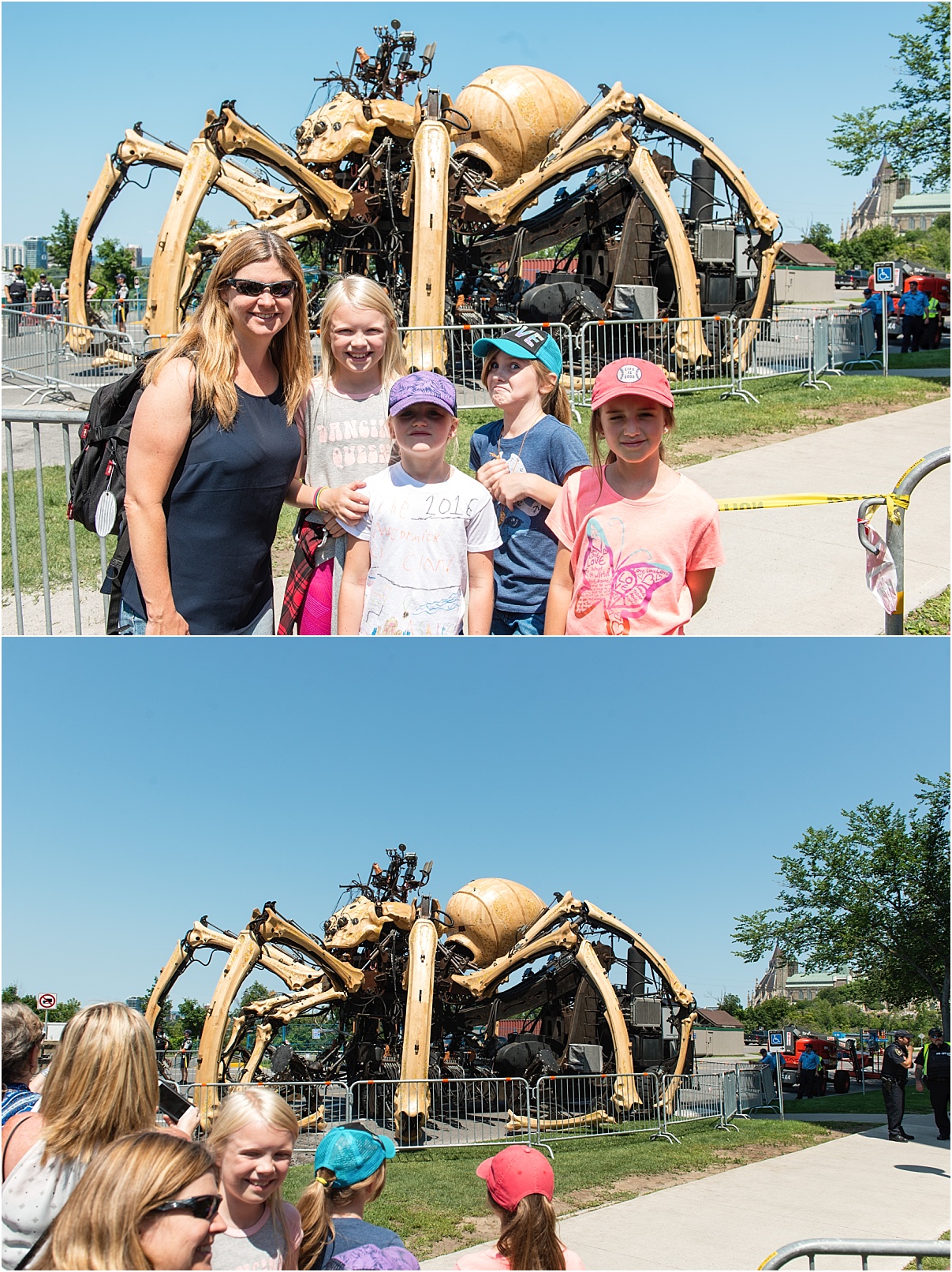 In hindsight we should have parked ourselves right there to watch the beasts awaken, but we thought it would be cooler to see them walk down the street. We found a shady spot on Wellington and staked our claim there. We still had over an hour to wait until the show was to begin, which in kid time is akin to twelve days. We ate our snacks I packed immediately and the water bottle I brought was quickly consumed. It was getting hotter by the minute, the crowds were building and the children were bored.
They literally checked my phone minute by minute to see what time it was. Of course Kumo was a bit slow off the gate and did not reach us until 20 minutes after the original departure time was set. By now my children were complaining up a storm. "This sucks, he's late, I don't even want to see it anymore, I have a headache, I'm so hot, the music is too loud, this is the worst day of my life!" Sprinkle in some random crying and wanting to get the hell out of there after that spider walked by to go pee, and you have the beginnings of parents who want to rip their eyes out then crowd surf just to get away from the pathetic cries of impatient children.
We managed quite easily to navigate through the thick, sweating hordes of spectators to get back to where the porta-potties were. I did not go in, but apparently they were a spectacle all on their own. We huddled next to the wall in the shade where Long Ma was to awaken, but the crowd was thick, tall and grown adults were pushing to get in-front of my children and putting their children on their shoulders so they could see. By this time my kids were in full meltdown mode and could not care less about the big fire breathing mechanical monster about to make its way down the street.
Again we set off to get closer to the street, but we were much further away from the action than the spot we had previously. We literally could not move in the crowd, there was no way out, no way out until the dragon went past and the roads re-opened. I could see just fine because I am tall, but the kids could see nothing unless I lifted them. I was carrying my camera bag which was heavy, so I could not lift them up for more than a few seconds at a time. It was hell.
Finally the beast had descended on his journey down the street and the crowds began to make their way out of the dead zone. SLOWLY. At this point all I could think is if one of those crazy terrorist bombers were on the loose, we'd all surely die a bloody, terrifying death. I was starting to feel claustrophobic and getting as cranky as my children. I f'ing HATE large crowds also and this was a crowd of nightmarish proportions. Inch by inch we made it out of the chaos and headed for the air conditioned comfort of the Rideau centre, promising the children the largest ice cream cone we could afford. Unfortunately everyone else had the same idea, and alas, we found ourselves waiting in line….again.
At least by now the children had calmed down and seemed to perk right up once the gelato was in their system. In fact they were happier than two drunks in a river of whiskey. The headaches were gone, the crowds were gone and we were on our way home. We stopped one last time at the sculpture at the NAC, then got in our giant truck and were on our way. The kids were in such good spirits now, they wanted to stop at the park and play. No F'in way kiddos. My friend and I wanted to get the hell home and nosh on pizza and a big glass of wine.
We all learned a valuable lesson yesterday. If you want to see something and enjoy yourself, leave your children at home. The children learned how much they hate big crowds and will likely never ask me again to do something in which said crowds might be involved. Win win! BTW, the mechanical monsters were super cool, but this time in machines vs children, the children unfortunately won the battle.