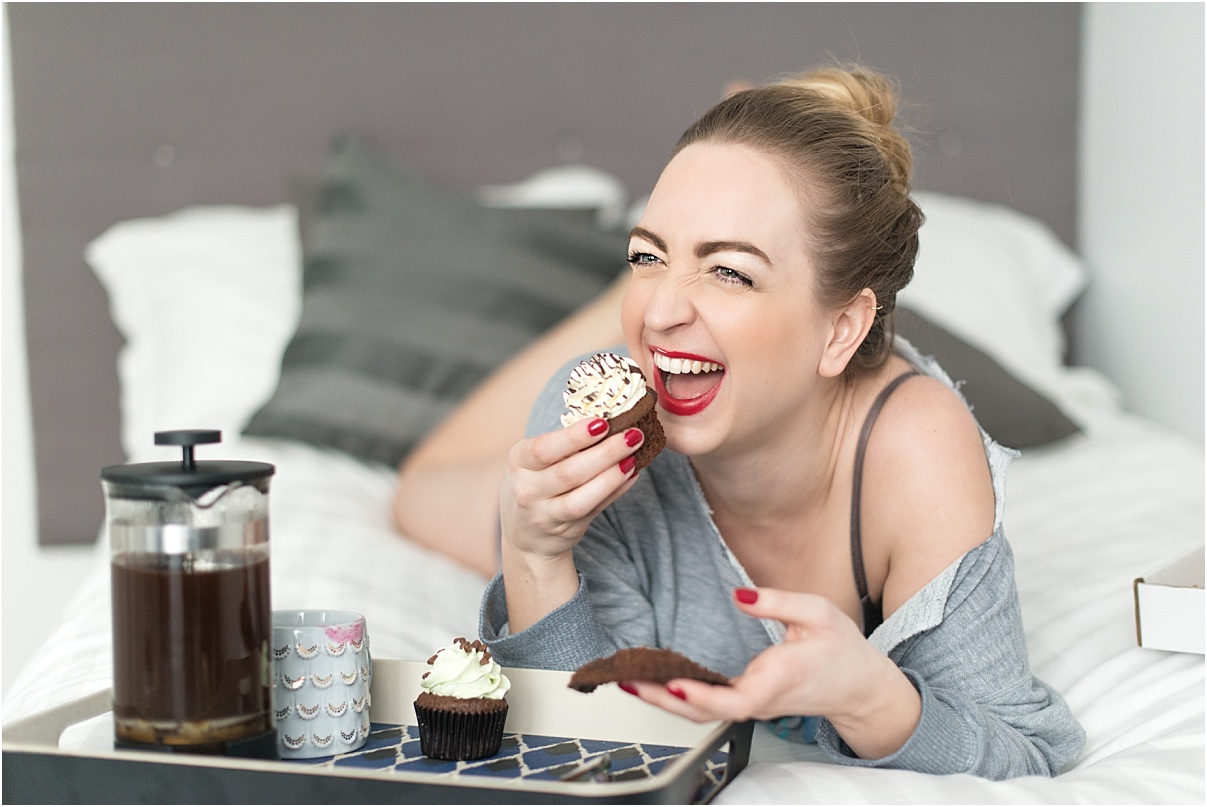 Just over a week ago a couple of industry friends contacted me to do a special type of boudoir shoot. The idea stemmed from a photo posted on the rising tide society which depicted a gal in her skivvies and a plaid shirt sitting by the wall enjoying a slice of pizza. She posted this photo on a dating site, and some douche of a "man" commented that she looked like the kind of girl who could eat a whole pizza. How rude!
We decided that it would be fun to take some photos of us enjoying the things we love at home but add some sexy flare to it, showing that boudoir can be anything you want it to be. Women are beautiful every day. Sometimes it's hard to recognize that inner beauty we all posses, but it is always there (even if it's hiding sometimes) and we should celebrate it!
Most days admittedly I feel like a rundown old troll, working from home behind my computer screen donning a polka dot house coat and slippers with a hole in the toe. My house is often a disaster with 2 kids running around and me taking them to extra-curricular activities most nights of the week and trying to run a business, looking after pets and wearing my wife hat, who has time to look good?
Some of us forget about ourselves while trying to wade through this crazy thing called life, but through it all, we all have something to offer. We are funny, smart and hard working. Most of us like to indulge in tasty treats, coffee and liquor from time to time (ok maybe a lot of the time) and why not? YOLO. Yeah I said YOLO.
The three of us decided to get dolled up (a little, but not full glam) and take some fun pics. Cait, who has self proclaimed to 'not wear pants' around the house and has an addiction to good pressed coffee, cupcakes and pizza wanted to express her lounge around the house style. Although none of us actually lounge around the house in this much make up (well except for maybe Liana, the make-up artist) we still wanted to feel good for our photos.
Caits photos were fluid and honest. Liana and Charlotte (the photographer who photographed this photographer) were in the room cracking her up consistently. At one point I had to ask them both to leave so we could get a few pics without Cait snorting her coffee and whipped cream in every frame.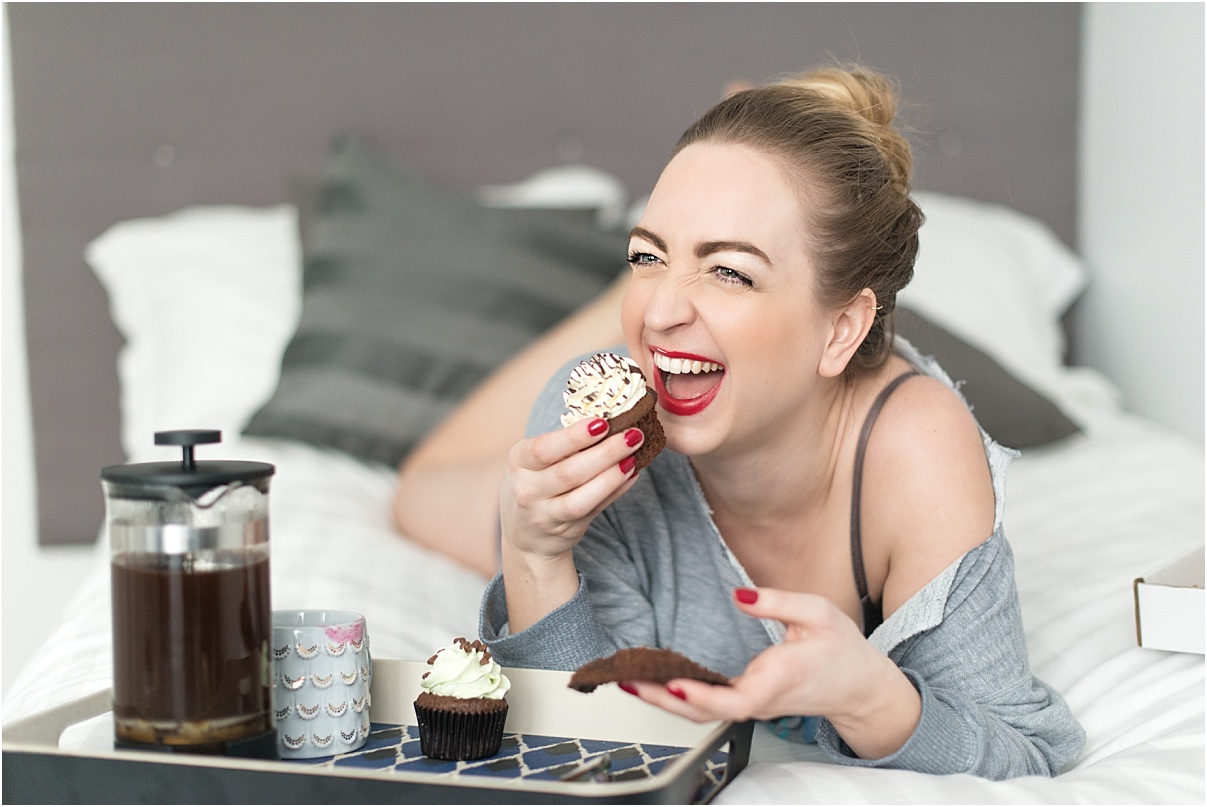 Liana's pics (also pantsless) depicts her eating kit-kat bites, drinking wine, cuddling kitties and texting boys. She is on the dating scene, so we also wanted to show some photos of her getting ready to go out and exuding her natural sexy sass. I can't speak for them, how they felt during the shoot and seeing themselves in this light, but they expressed to me that they loved the photos (which is always the nail biter for me when presenting such personal work to my clients) It 's a win for us all.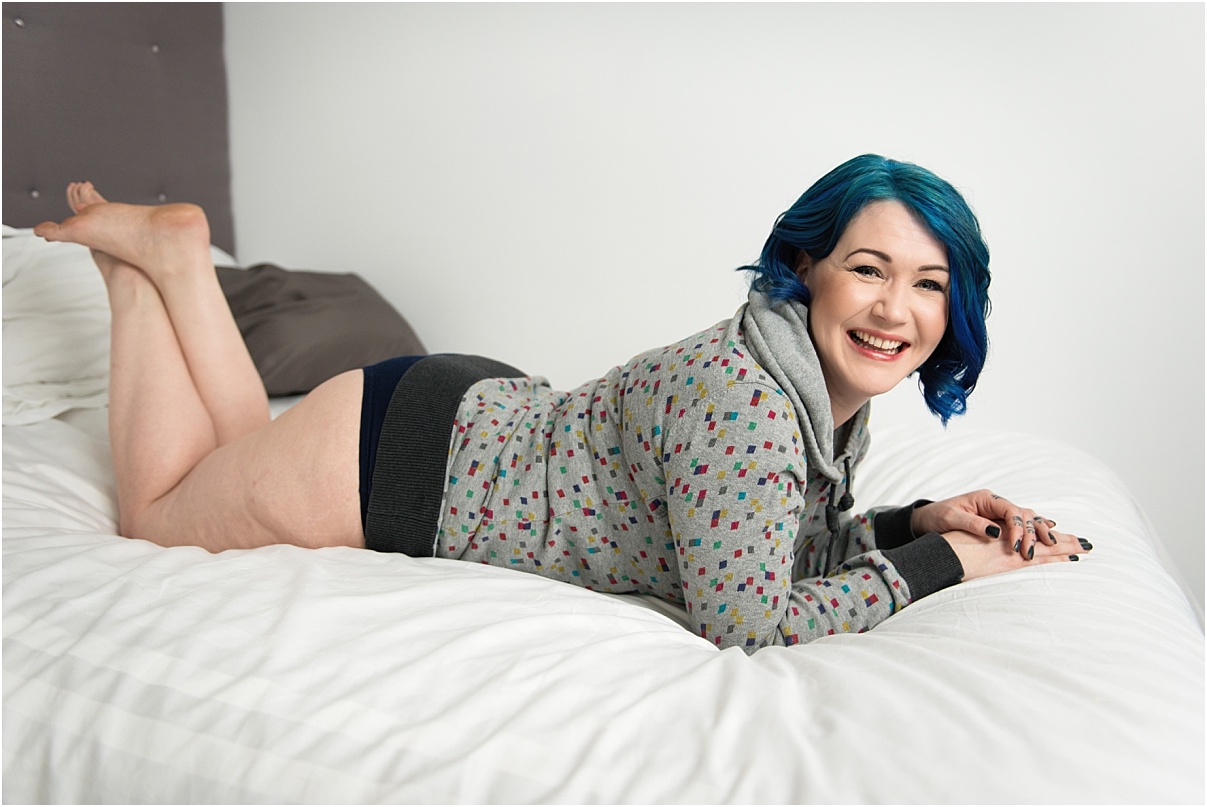 Next it was my turn….. gulp. Most photographers (albeit not all) are far more comfortable on the backside of the camera, this is me 100%. Not only is it about how you will perform in front of the camera that is intimidating, it is also that loss of control you no longer have and you must put your trust into the hands of another creative. I have only seen a sneak peek of my photos thus far, and I have to admit I did not feel particularly good when I saw them. Not because of the photography itself, (Charlotte is excellent) but because of my own insecurities. I felt really old! Man, have I really aged that much? Stay out of the sun kids is all I could think. I really beat myself up over it and I still have not shown my husband.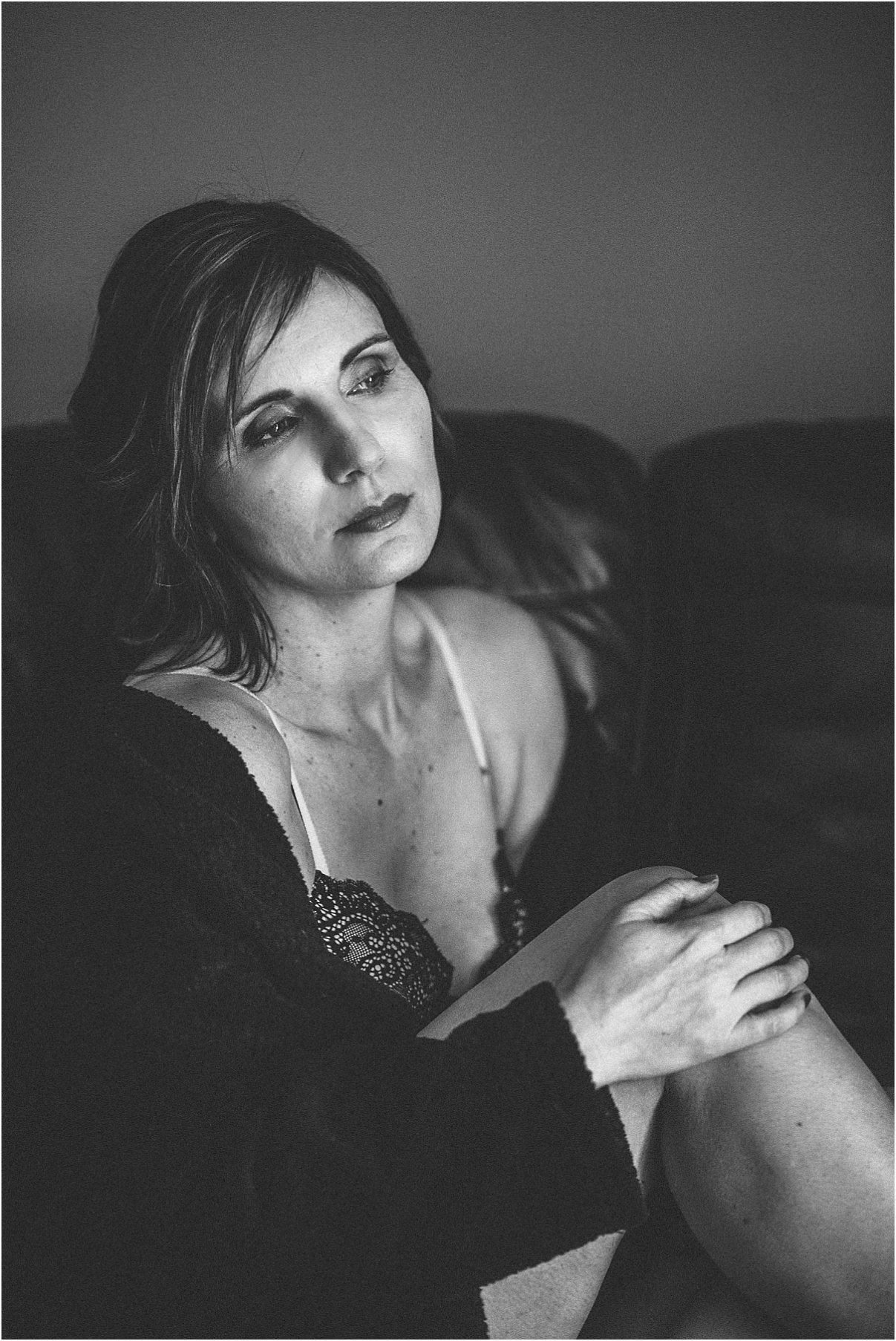 When it was time for my shoot we didn't have a lot of time left in the day, and frankly I wanted it over with quickly, so it kinda worked out. I had on a housecoat, bra and undies, nicer that what I usually wear from day to day, my Doctor Who mug with my addiction inside (only coffee folks) and tried to get Liana's cats in on the action (crazy cat lady here). Trying to wrangle cats into a photo shoot turns out just the way you would imagine wrangling cats to be. One decided to hiss right in my face, which luckily and hilariously Charlotte managed to click the shutter for.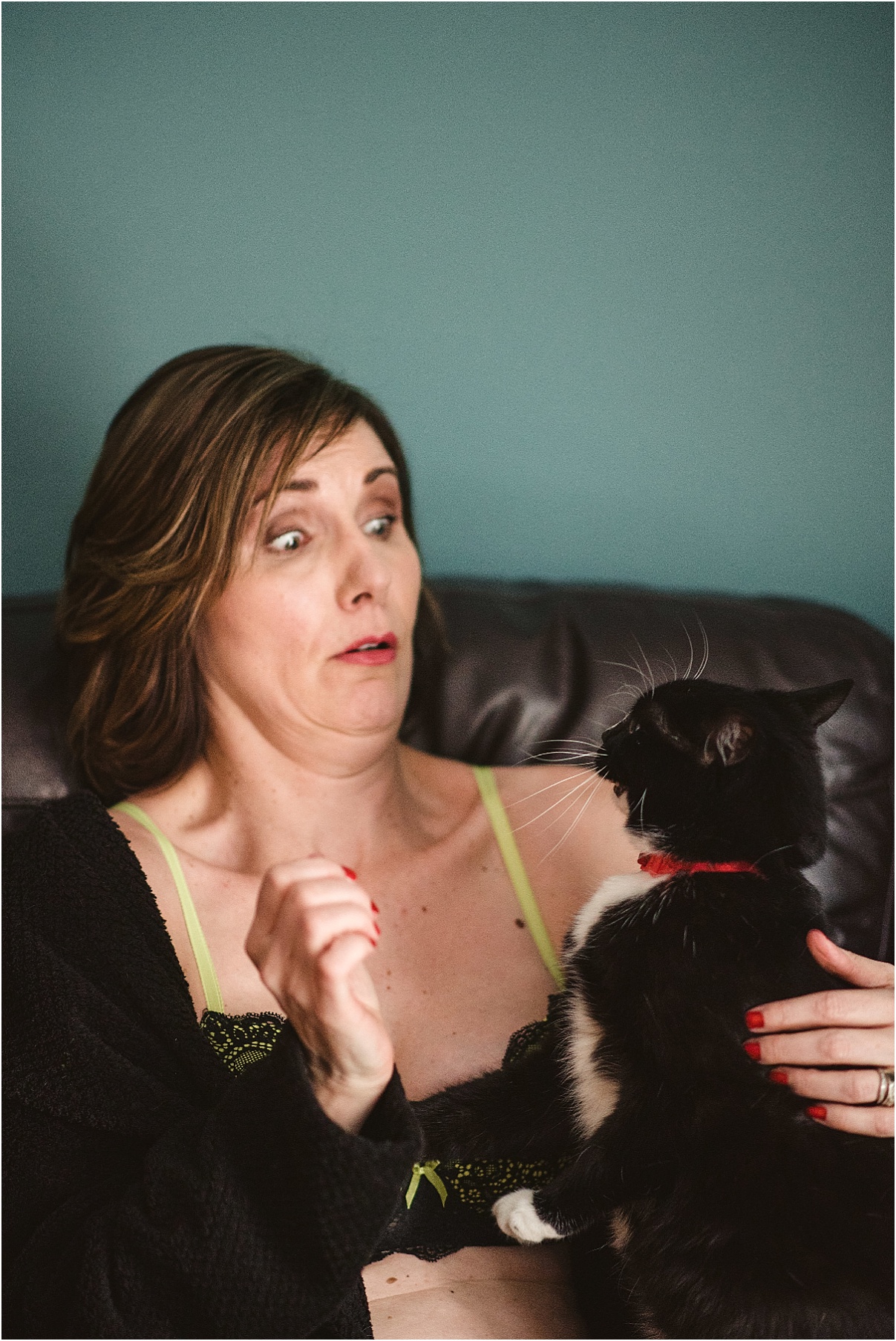 The rest was just me doing what Charlotte told me, because frankly, I felt clueless. Doing this gave me a much better appreciation of how my clients might feel when getting in front of the camera. It also allows me not to take it personally when they don't like or select a certain photo from their series, even if I love it.
So what I take away from this is: Beauty is whatever you want it to be. There are no rules. Don't judge yourself too harshly, you don't have to be 'on' all the time. Do things that make you feel good, pamper yourself every now and then and have fun with your friends….always. Eat the cupcake, drink the wine, dance in your undies. We all have those moments of not feeling good in our skin, but it is after all just skin. What is inside the skin is far more important to nurture and be at peace with. While I suspect we all have to indulge in a little more self love, nothing lets you own up to it more than by getting real in front of the camera.
I want to thank all the ladies who participated and agreed to share their sexy vulnerable sides to me and all of you. Let's do it again sometime!
UPDATE: I got the rest of my photos back from Charlotte and I feel really good about many of them. It took me a few days to warm up to my self image. I will show the ones here that make me feel my best.
Peace.
Concept/styling Cait O'Mallee Bourbon and Bloom Liana Lacroix, Stacey Stewart
Hair/Makeup Liana Lacroix – Liana Lacroix Beauty
Photography: Stacey Stewart Photography and Charlotte Northrope Photography